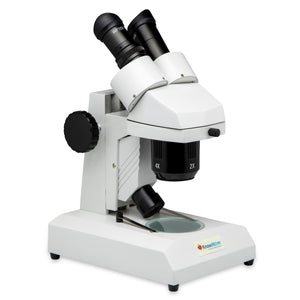 This binocular stereoscope has 10X-20X-40X stereo magnification settings and includes built-in overhead and bottom LED lamps. The stereoscope is portable and can be taken out to field sites with its internal rechargeable battery system, or plugged in for use while charging. This microscope is a perfect instrument for viewing insects, plants, rocks, and other objects.

Used in Grade 1

Adult Supervision Required at All Times.
ITEMS CONTAINED IN THIS KIT ARE NOT TOYS AND ARE NOT INTENDED FOR HUMAN CONSUMPTION.
Contains parts made in China. Packaged in the USA.